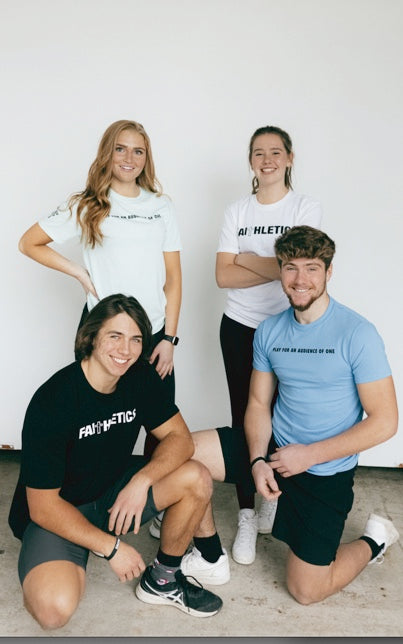 Our Ambassador Program
Faithletics is excited to annnouce that our Ambassadors are able to get paid for spreading our message!
Are you Faithletic?
We are looking for athletes ready to spread their faith throughout their community
Find strength in their faith and their fitness
Respect and represent our values and mission
LETS GET STARTED!
As an ambassador you will be given an ambassador discount for 20% off your first purchase to get you geared up and representing Faithletics as you begin your journey with us!
Payment Information:
10% commission on purchases made using your affiliate link or coupon code
Apply Now
FAQs
How much do I make each order?

10% commission of each purchase made with your affiliate link or coupon code.
How long does this process take?

1-2 days for the approval of your ambassador account and the creation of your coupon code. Payouts will occur every 3-5 business days.
What is my coupon code for?

Your coupon code is worth $5 off the purcahse made by the customer and is used to connect the purchase to your account so you can receive commission.
What code do I use as an ambassador?

You will receive a 20% off coupon for your first purchase as an ambassador so you can get gear to represent your faith and our brand as soon as possible!
Do I get paid for personal purchases?

You will not receive payment for personal purchases.
Can I change my coupon code?

You can change your coupon code once your ambassador account has been approved. The edit coupon code will show up on the dashboard of your ambassador account.
How can I do better as an ambassador?

Our most successful ambassadors purchase the ambassador pack when they join our program and post on social media using their personal coupon code with a picture in one of our shirts. Adding your affiliate link in your bio can also help create more purchases.
How does this work with NIL deals?

Every school and every state are slightly different with how they handle NIL deals. It is best to talk to your compliance liaison to know all the information for your unique situation.